Grading & Drainage Solutions
The outside of your home may be causing damage to the inside of your home. Without the proper exterior "water management", grading and drainage, your home could become flooded. See Clear is dedicated to providing customers with precision exterior water management solutions that ensure when water travels on your property, it flows away from your home or business.
Accurate Assessment Grading & Drainage Solutions – Ensuring that your property has Proper water management comes down to the contractor you were working with and their experience with grading and water management. You'll often need a combination of grading and drainage systems to correctly manage water on your property. See Clear owns and operates state-of-the-art turf-friendly versatile tracked equipment and has the proper experience to utilize them on your property, which means that it's best if you have it done by a professional like us. We will be able to ascertain whether the ground is uneven or you have poor drainage, then apply the correct water management system.

Drainage Systems – Drainage systems are an essential part of keeping your home and property safe from the damaging effects of water. Without a sufficient water management system, drainage problems can cause damage to your home's foundation, lawn, and landscaping. We install effective drainage systems, natural swales, and proper grading to eliminate or reduce drainage problems and help prevent future water problems.

Erosion Control – Most erosion control problems will start as a small improper grading issue, but can quickly become a major concern if not properly addressed. We evaluate any problems you see and develop an erosion control solution around your home or throughout your landscaping.

Educating Our Customers - See Clear and its team understand that our tree lingo may sometimes get confusing. So here is some literature for you to digest!

What are A.D.S, NDS drainage systems?

A.D.S and NDS top-of-the-line water management products. When installed correctly, they protect your property by managing rainwater to direct locations and reducing erosion.

What is a natural swale?

A swale is a select, low portion of designated wet, marshy land and/or a carved-out section of earth that channels and directs water. At See Clear we incorporate them with landscapes so they look natural. In some cases, over time, swales (especially man-made ones) need to be reworked to be better functioning or changed entirely to be effective. What is a retention pond? A retention pond is an artificial pond or designated area to manage stormwater runoff.

What Is Grading?

Grading is the sculpting of land to a desired slope or level base using existing on-site material to prepare a base course for construction and landscape design, garden improvements, or surface drainage.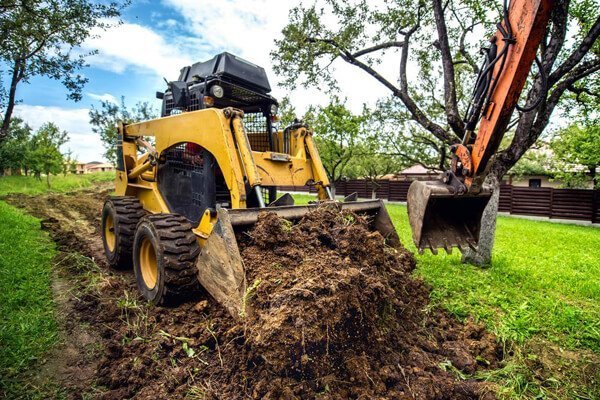 Customer Testimonial
"Paul was very quick with getting back to me. A lot of others don't even call back. He came out, looked at what needed to be done and wrote up a proposal. They were back within the time span specified, worked quickly and efficiently."
— Customer, Angie's List
Want a free estimate for your grading and drainage solutions? Let us help you with your grading and drainage needs. Contact us today!